Discover the 10 Top Robotics Startups to Watch in 2023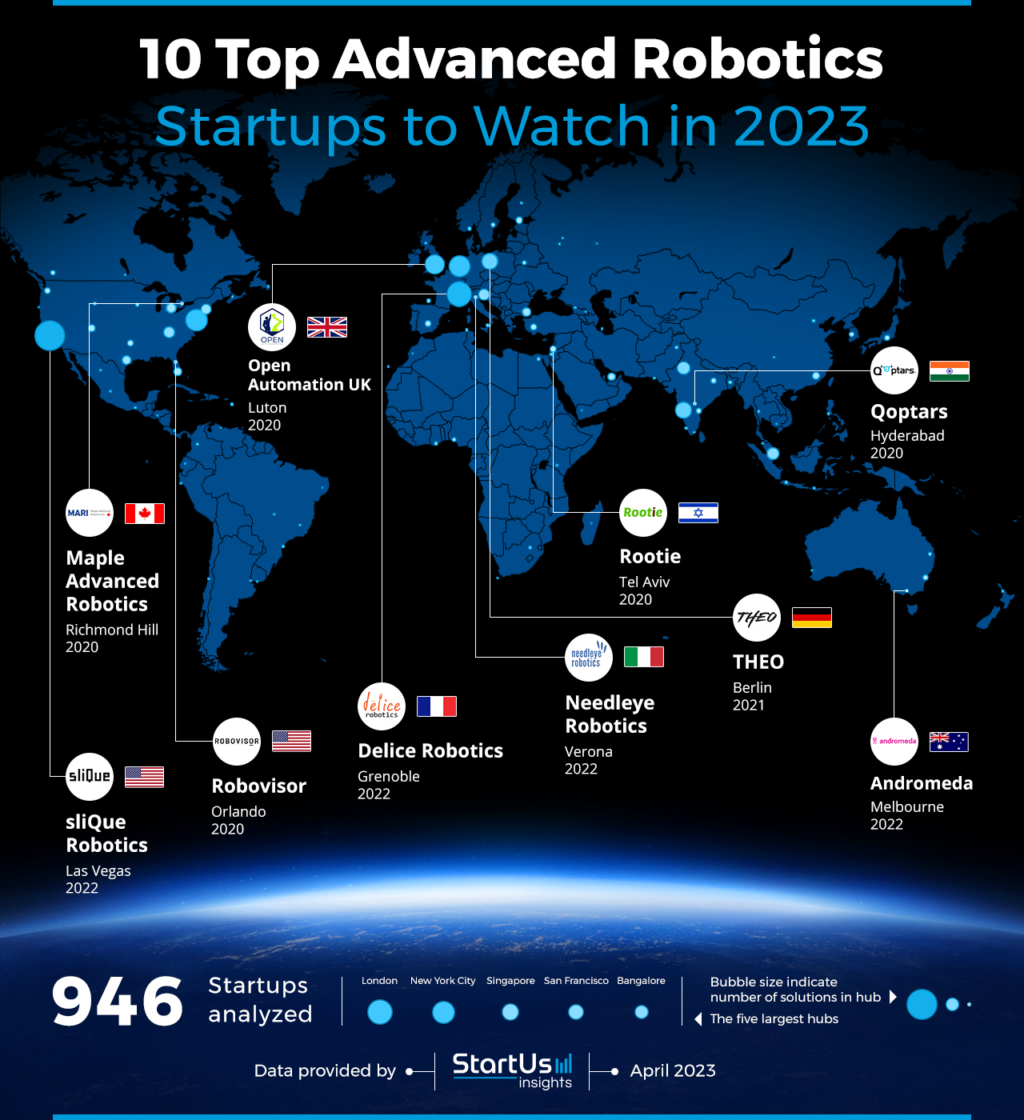 Global Startup Heat Map highlights 10 Robotics Startups to Watch in 2023
Through the Big Data & Artificial Intelligence (AI)-powered StartUs Insights Discovery Platform, covering over 3 790 000+ startups & scaleups globally, we identified 946 robotics startups. The Global Startup Heat Map below highlights the 10 robotics startups you should watch in 2023 as well as the geo-distribution of all robotics startups & scaleups we analyzed for this research. Based on the heat map, we see high startup activity in the USA and Europe, followed by India. These robotics startups work on solutions for the healthcare, logistics, manufacturing, and hospitality industries, as well as smart cities.
As the world's largest resource for data on emerging companies, the SaaS platform enables you to identify relevant technologies and industry trends quickly & exhaustively. Based on the data from the platform, the Top 5 Startup Hubs for Robotics are in London, New York City, Singapore, San Francisco & Bangalore. The 10 hand-picked startups highlighted in this report are chosen from all over the world and develop companion robots, delivery robots, industrial cobots, and more.
10 Robotics Startups to Watch in 2023
Innovations in robotics are having a significant impact on various industries. One of the most prominent areas that increasingly adopt robotics is the manufacturing industry. With the advent of collaborative robots, manufacturing processes have become more efficient, cost-effective, and safe. Cobots work alongside human workers, increasing productivity while reducing the risk of accidents. Moreover, the use of machine learning and artificial intelligence has made these robots more intelligent and adaptable. Another area where advanced robotics has a significant impact is the healthcare industry. Robots perform complex surgeries, assist with physical therapy, and provide support to elderly patients. Additionally, robots facilitate mental health counseling and therapy sessions. Read more to discover 10 interesting robotics solutions!
US-based startup sliQue Robotics develops robotics solutions for the hospitality industry. It offers autonomous delivery and cleaning robots to optimize operational efficiencies and improve guests' experiences. The robots also deliver items such as towels, linens, and food to rooms, as well as provide information about the hotel and its amenities. They also clean common areas and sanitize surfaces with UV light. By using sliQue Robotics, hotels reduce labor costs and enhance their brand visibility. Further, sliQue Robotics empowers employees to focus on creating improved experiences for customers to increase satisfaction and loyalty